Bohemian Style - The Charmingly Unconventional Interior Trend
Bohemian or boheme style, also known as "boho" for short, is one of the most popular furnishing trends of our time. No wonder, since it embodies a wonderfully imperfect style of living that, for all its individuality, is always comfortable and cosy.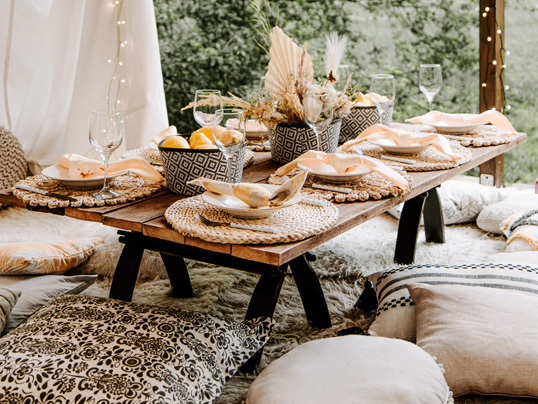 Origin and evolvement of the boho interior style
The term "bohemian" originated in 19th century France as a countercurrent to the austere lifestyle of the conservative bourgeoisie by intellectually artistic fringe groups. The young bohemians found the bourgeois norms of their parental homes restrictive and stifling and longed for an unconventional life with all creative freedom and the opportunity for personal development.
They drew inspiration from the lifestyle of the Bohemian Roma, who roamed the country freely and unbound in their colourful carts. The term "bohemian" should in this context be understood as meaning "unconventional", while at the same time referring to Bohemia.
What characterises the boho interior style?
The bohemian look caters to the freedom-loving spirit of artists, writers and philosophers. Therefore, there are no norms establishing a uniform standard. The focus is on individuality, so you can do whatever you like.
Accordingly, boho comes across as unconventional and casual. The hippie movement of the 60s and 70s embodies this trend perfectly. A boho-style home reflects the personality and experiences of its owner. In addition to the furnishings, souvenirs from travels and other beloved mementos also find their rightful place in the boho interior. That is precisely what makes it so distinctive.
Boho look essentials
Although there are no rules, there is a common thread for furnishing your four walls in Bohemian style despite all the unconventionality. Natural materials such as wood, cork or rattan set the tone, and natural colour palettes are generally used.
The special flair of the boho style is achieved by a harmonious combination of distinctive items of furniture, each of which has its own charm and appeal. This can be second-hand furniture, flea market finds from various eras or a magnificent antique such as a red velvet Gründerzeit sofa.
Boho aficionados are free to refurbish their furniture and paint it in the colours of their choice to give it a very personal touch. A colourful, multi-epochal mix that harmoniously blends into one big whole - this corresponds most closely to the Bohemian vibe.
Popular boho accessories
The relaxed atmosphere of boho style is created to a large extent by casual accessories that lend a sense of cosiness despite their extravagance. Some elements are inspired by outdoor and beach life, because where else can you better relax and get away from it all?
A boho living room could, for example, give you the choice between a chaise longue with curved little wooden legs and a hammock. Overhead you might have lanterns providing atmospheric light or even a glittering vintage chandelier for that extra dose of glamour. Candles - preferably many of them - are also indispensable for a cosy or even festive atmosphere.
Many a boho paradise even resembles an enchanted indoor garden. Deeming plants merely a decoration or an accessory hardly does justice to the boho soul. They are part and parcel of it. Vertical gardens may be a recent development, but they are perfect for boho interiors. The style is harmoniously rounded off by hanging plants and macramé.
These colours, patterns and textiles will perfect your bohemian look
The earthy, natural base colours are combined with contrasting colours such as burgundy, violet and turquoise, and even sunny yellow. The colour mix is meant to be cheerful and relaxing. Dark, gloomy nuances are avoided.
Boho likes patterned textiles. Oriental or ethnic patterns are just as popular as the classic patchwork plaid or a tapestry with a batik pattern. Flower power does not only extend to the love of plants, the bohemian look is also reflected in home textiles with floral prints or embroidery. Boho without fringes and tassels? At the very least, they are highly popular, as are all kinds of cosy blankets, cushions and soft rugs. A Bohemian-style dream home is the embodiment of a free spirit. Always individual and cosy with a touch of glamour and the right amount of living comfort.